May 12, 2021
The NCAD Advocate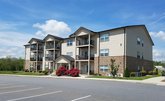 NC Association
of the Deaf
May 2021 - Issue 18
Alder Springs Deaf & Blind Community
Home Away from Home!


We are a gem. Tucked in the foothills of the Appalachian Mountains, there is not another residential community in the United States like Alder Springs Deaf and Blind Community in Morganton, NC A real small-town charmer!


Located about one mile from the North Carolina School for the Deaf (NCSD), Alder Springs is three blocks from downtown Morganton. While N.C. School for the Deaf was established in 1891, Morganton is also a historic treasure.


It's an easy place to get around; residents may have cars but Alder Springs is also a stop on the local public transit system. A brief walk across the street and you will find yourself at the CoMMA, the town's theater that has hosted national tours of Broadway shows and fabulous dances. You can also enjoy craft beer or a glass of wine, enjoying this "Champagne in a Tin Cup" life as one describes Morganton's breweries and wineries. 


What sets Alder Springs apart is access for our residents – a linguistically rich, visible and tactile community where residents are all about communication and the cooperative spirit. Imagine being understood and understanding everyone around you at all times! Fitting in is a given.


Enjoying Life Requires Comfort…


The buildings and campus are designed and constructed for the unique independent living needs of Deaf, DeafBlind, Blind, and Hard of Hearing residents. Residents can have their own contract with professional support services to assist with independent living tasks. Professional sign language interpreting is abundant in Morganton. Our Deaf Interpreting (Deaf Interpreters) community is growing as well.


All apartments are open design with unobstructed sight lines in the main living area. Easily navigable, each one features communications and security technology that define the culture of safety at Alder Springs where the municipal Public Safety Department (fire and police) is located next door. Mind you, if you need any help – they will be at your door in a split second.


Pets are allowed, too! Dogs and cats are good for the soul, we feel. Alders Springs boasts a new park for the local fur babies. What happens in the dog park stays in the dog park – truer words have never been spoken.


Thriving Residential Community for Deaf, DeafBlind, Blind & Hard of Hearing


In its sixth year of successful operations, Alder Springs is a non-profit, privately owned apartment community constructed entirely with charitable gifts, grants from private foundations, and a long-term mortgage. No government funding is involved.


The recently re-designed website (www.aldersprings.org) explains how Alder Springs is owned by NCSD@Morganton Foundation, Inc. (NCSDF) an independent, non-profit corporation established in 1991 with a mission to enhance the educational experience of NCSD students including workplace experience, scholarships, and emergency financial assistance.  


A portion of Alder Springs' annual revenues is contributed to support the mission of NCSDF. NCSD also benefit through supervised work at Alder Springs. Residents feel a sense of mentorship and joy as they help young deaf people.


Neither NCSDF nor Alder Springs is a state agency nor does either receive state or federal money. They are governed by an independent, volunteer board of
directors that guides and manages Alder Springs including policies, applications, repairs, and rent payments. Also, the board of directors is considering expansion to include a new apartment building featuring studio apartments as well as 1-Bedroom and 2-Bedrooms. 


Sweet Space in the Mountains


Although not more than a half-hour drive out of town, you can actually have a little taste of the wilderness. Alder Springs is close to Blowing Rock (35 min.), Boone (55 min.), South Mountains (60 min.), Asheville (75 min.) – all great areas for light hiking and biking.


We welcome you to come and see for yourself.


Alder Springs and beautiful Western Mountains of North Carolina await you!



Friendship isn't a big thing. It's a million little things.
- Paulo Coelho.
Only cat owners will understand!
The greatest gift of life is friendship...